OUR REGGIO EMILIA INSPIRED APPROACH
A UNIQUE VIEW OF THE CHILD
---
Post World War 2 parents were determined to create a more hopeful and sustainable future for the children of Reggio Emilia, a city in northern Italy. The community rallied to build the very first nursery school. Many years later a group of schools in the Reggio Emilia area were voted the best schools in the world. This prestigious accolade sparked great international interest, which resulted in more countries beginning to explore and apply the Reggio Emilia teaching approach. Today the Inspired group, made up of over 111 schools across the globe, embraces this approach as we successfully integrate the philosophy into our Early Learning Schools as further described in our educational philosophy below.
AN INSPIRED APPROACH
AN INSPIRED APPROACH
---
At Reddam Early Learning School, we aim for all children to become confident and involved learners, who grow and develop in their own time. We provide flexible, open-ended play based experiences, which foster a sense of belonging, being and becoming. Our programme enables children to make choices and decisions and have an impact on their world, in a safe and secure active learning environment.
An active learning environment is one where children are encouraged to explore and interact with the environment to make meaning and knowledge through their experiences, social interactions and negotiations with others.
We aim for all children to become confident and involved learners.
We encourage the discovery of deeper meanings and the making of connections between ideas and concepts.
Equipment and resources allow students to participate in rich learning experiences.
Image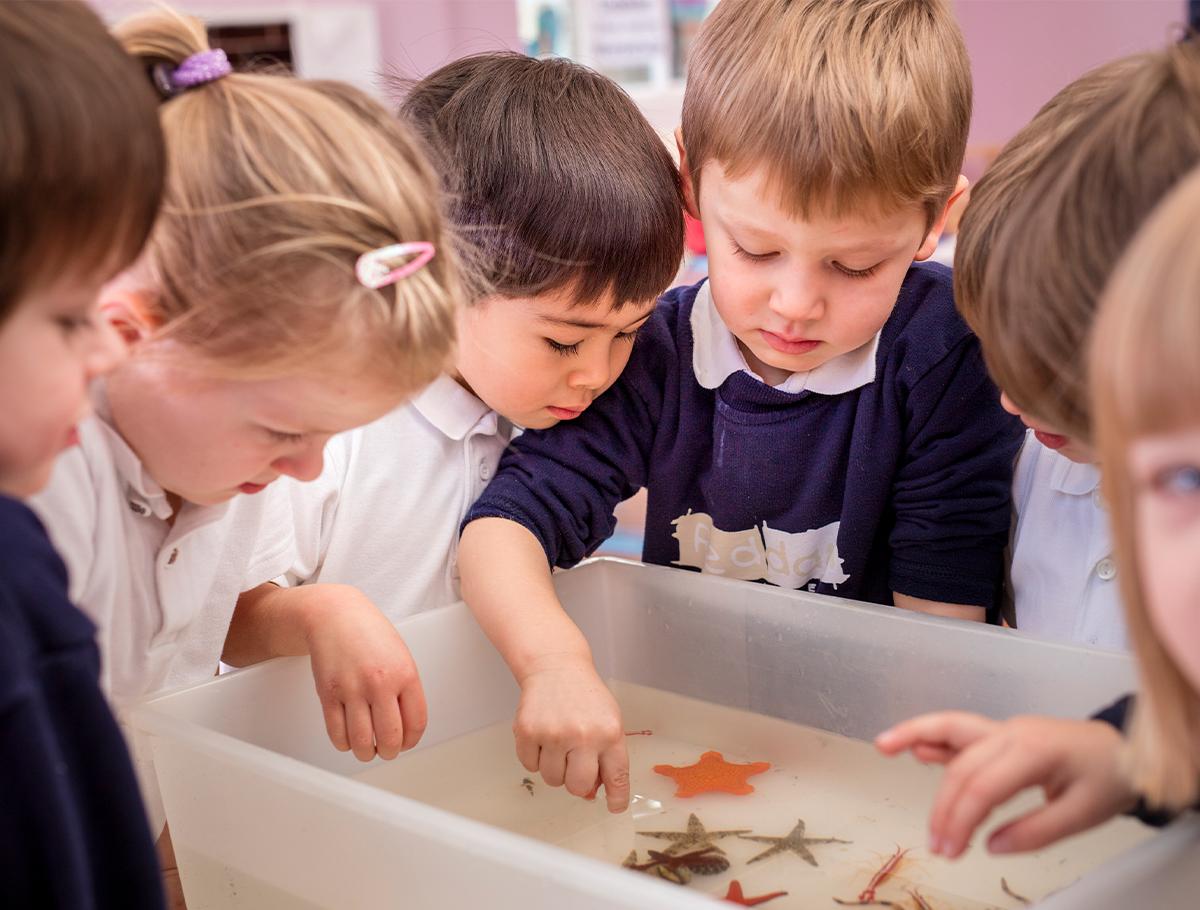 We believe educators need to be engaged with children and their play, encouraging and supporting them to discover deeper meanings and make connections amongst their ideas and concepts, and where the adult and the child can learn from each other. We believe that children's wellbeing is essential for involvement. Wellbeing includes happiness and satisfaction, effective social functioning and the dispositions of optimism, openness, curiosity and resilience.
Our intent is to ensure that all children's experiences are valued, and that all children have access to equipment and resources allowing them to participate in rich, meaningful learning experiences. We also endeavour to provide opportunities for children to demonstrate their learning and appreciate and value difference.
Our approach portrays a unique view of the child: each seen as beautiful, powerful, competent, creative, curious and full of potential.
INSPIRED LEARNING
---
Our Reggio Emilia inspired approach portrays a unique view of the child: each seen as beautiful, powerful, competent, creative, curious, and full of potential.
Placed at the centre of the curriculum, children are encouraged to select and explore topics and activities for themselves, developing deeper engagement from the child, building independence and stimulating curiosity. Rather than being seen as the target of instruction, children are seen as having the active role of an apprentice and researcher.
A lot of our activities take the form of projects where children have opportunities to explore, observe, hypothesise, question, and discuss to clarify their understanding. Children are also viewed as social beings and a focus is made on the child in relation to other children, the family, the teachers, and the community rather than on each child in isolation.
TEACHERS & PARENTS
---
Early Learning School teachers are handpicked and rigorously trained to ensure children at all levels are enthused and provided with the tools to self-motivate their own learning journey.
Through observation, teachers become acutely aware of each child's individual needs and latent potential as they constantly engage through attentive listening and observation of the child's interests, concerns or ideas. Our teachers challenge the children to deepen their understanding and ultimately identify the endless possibilities to their thinking. Teachers plan rigorously, yet are flexible, for on-going projects and explorations, whilst still covering the prescribed curriculum. Materials and resources are carefully chosen to inspire inquiring minds and build skills.
CLASSROOM ENVIRONMENT
---
The children's environment - both indoor and outdoor – is considered the 'third teacher'.
Care and consideration is given to the layout and design of the indoor and outdoor environment. The spaces aim to stimulate our children's imagination, creativity, exploration, discovery, engagement and sense of wonder. Open-ended materials are frequently used, these allow for spontaneous and unguided responses.
A Piazza space greets you as you enter our schools. The Piazza is a central area where parents, teachers and children may come together in the morning or afternoon.